My classes are in Farnham, which is a nice little market town, surrounded by countryside, so I figured a venue wouldn't be too much of a problem. The Gentleman Friend suggested one place, which we visited and it was very pretty, but there wasn't enough space for parking more than about three cars. So I opted instead for Waverley Abbey, which is a ruined Cistercian abbey just outside Farnham, and does have a bit more parking room, and was nice and easy to find, and is very picturesque. I am shamelessly nicking photos from the internet, because like a dummy, I forgot to take my camera.
So I emailed instructions to all my students and crossed my fingers that some of them had actually remembered to keep the day free, and I suggested what to bring in the way of blankets to sit on, and food for sharing.
I got there a bit early and hung around by the entrance to the car park, being obviously me, because although it was singposted, the sign is rather overgrown and covered by trees and leaves and branches, and I was worried that people might overshoot and miss it. A reasonable group of us turned up and we wandered down towards the abbey, and installed ourselves under a giant and very gnarly-rooted yew that must be several hundred years old, given that the abbey has been in ruins since the time of Henry VIII. Again, I gank an image from the internet, so you can see how fascinatingly gnarly those roots are: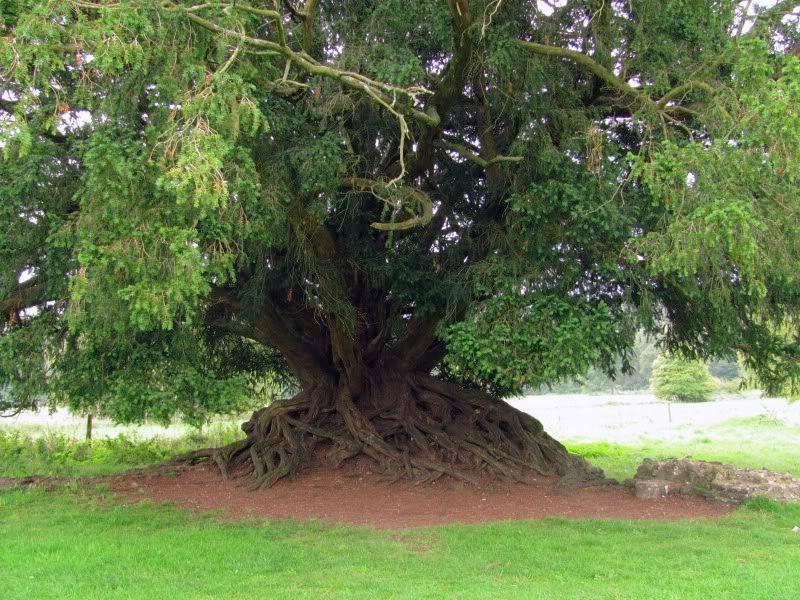 We had a mahoosive and delicious spread of food. I have to say, some of my students are overwhelmingly generous with their home-cooking and baking, and we had mountains of *delicious* noms.
It was really nice to catch up with everyone, and see them all again- it's been over a month since our last class! And nice to socialise outside class-time, so no time pressure, or knackeredness! We shall have to do this again next summer!
A little while ago, before classes finished for the summer, I was wondering about arranging something for my students and I to do together during the summer hols. I thought about a trip to Arabesque Nights but we'd done one of those not that long ago. I thought about teaching a workshop, but that would mean finding a venue, and deciding on a topic that everyone would want to do, and I wasn't all that keen on that one... And for some mad reason, the idea of a picnic came into my mind. Maybe I was subliminally influenced by the fact that we've actually had some sunshine this year. So I suggested this, in class, and the idea was generally approved of, so I picked a date for people to keep free, and said I'd email the details once I'd done a bit of research as to a venue.